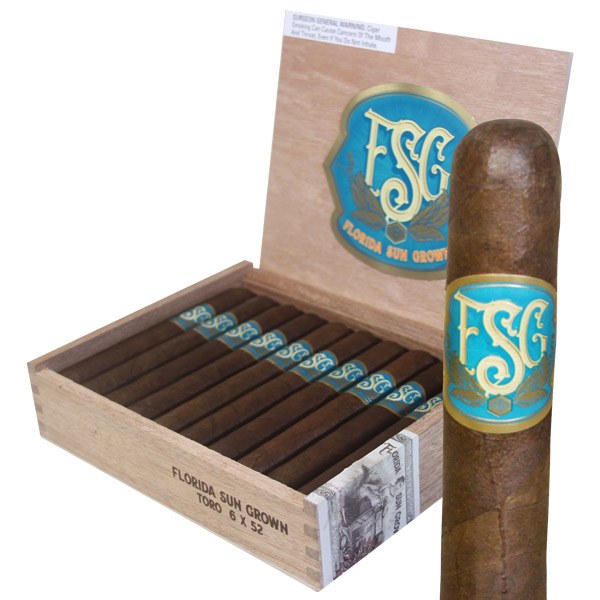 FSG by Drew Estate Cigars
Since that first test crop we have grown six successful crops to date. Each year we continue to improve as we make adjustments to adapt to our unique growing environment. Our hard working, all-American farm team understand what it takes to make a premium cigar. They take take pride in growing the finest tobacco leaves and they know, years later, their tobacco will bear the Florida Sun Grown name on world class cigars.
FSG by Drew Estate cigars are hand crafted in small batches at Drew Estate's Gran Fabrica in Esteli, Nicaragua.
The Florida Sun Grown line was blended by Drew Estate Master Blender Willy Herrera over the course of the past two years, during which Drew Estate has been fermenting and processing the new Sun Grown tobaccos. When asked about the new tobacco, Willy stated that, "it was a unique challenge working with the Florida Sun Grown tobacco. It was something completely new to me, and it took me numerous blends to figure out how to incorporate it into a blend I really loved. The final blend we've come up with is one I'm extremely excited about, and I can't wait to see what everyone thinks of this special new tobacco.
FSG by Drew Estate cigars have a three country blend of tobacco. The long filler has authentic Florida Sun Grown Corojo '99 ligero tobacco from our 2014 crop combined with seco and viso tobaccos from Nicaragua. The Habano binder is from Honduras and the cigar is finished off with a lush Arapiraca Maduro wrapper from Brazil.
Also offered in limited quantities is the FSG Limited Edition Trunk-Pressed Toro (6 x 54) with an MSRP of $150/10ct box. This limited edition size features its own unique blend, which utilizes a Connecticut Broadleaf wrapper, Mexican binder, and Florida Sun Grown filler tobacco, along with fillers from Nicaragua and Honduras.
It has been nearly forty years since any cigars were made with Florida tobacco. We are extremely happy to be able to bring back one of America's finest tobaccos and reintroduce the unique flavor of Florida tobacco to cigar aficionados world wide. We hope you enjoy these special cigars as much as we do.
Go Back